When less is more…
26/11/2017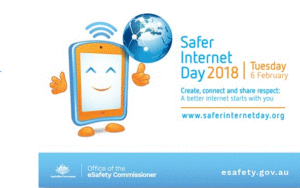 At the Security, Influence & Trust Summit 2016 – human centred design, research (presented during the day) and the brains trust of the room, the 100 attendees, came together to create security awareness campaign concepts.  Little did we know, one of these campaigns, #AskOutLoud, would become the proof point for a shared industry, government and not-for-profit campaign on Safer Internet Day 2017 (#SID2017).
The general public are bombarded by life – messaging and advertising invade every part of this – on the roads, in airports, on social media, via email and occasionally these include a security message or two.  But have you noticed these security messages are rarely the same, simple or memorable (#stickysecurity)?  A single customer will very likely get a different list of security tips from their bank, than they will their Telco or their chosen charity or government agency.   Research varies on the actual number, but it all points to the same reality, a message needs to be repeated MANY times (7-20 x in fact) to become sticky.
So what does this mean for cyber security?  What if we could reduce those "top 10 tip" lists for "being secure online" to #onething and better yet, repeat (amplify) this, consistently across government, industry and not-for-profits? Maybe we could create "stickiness", stop competing for the publics limited attention and actually meaningfully contribute to a Cyber Smart Nation?  Well, we piloted this in February for #SID2017 and #AskOutLoud was repeated well over 300x (in less than a day) – and even trended across Australia!
This week we will, again, have well over 100 industry, government and not-for-profit security awareness professionals in the one room.  What better time to workshop and agree on the key messages for Safer Internet Day 2018 (#SID2018)? So please, come prepared to roll up your sleeves and have a say in how we tackle this opportunity together – because less is more!  Let's stop with 10 (varying) messages, when it's 3 (or 1) that really matters! Let's #AmplifySID2018!
Participate from today – provide your thoughts to two simple questions which will be used as input into the SIT Summit workshop.
*SID is a worldwide annual opportunity to engage people in making the internet safe for everyone. The initiative is in its 14th year and spans 130 countries. The Office of the eSafety Commissioner (OeSC) is the official Safer Internet Day Committee for Australia responsible for driving the initiative locally.
Every year has a new SID theme. This year's theme is 'Create, connect and share respect: A better internet starts with you'. The OeSC are looking to focus on the respect element of the theme in Australia.